Great Reasons to Attend VCIA 2019:

NEW Captive Immersion! Captive Immersion will be held on Monday afternoon, August 5th, as an optional new component to the VCIA Conference. Captive Immersion is designed to familiarize new captive industry professionals on the essentials of captive insurance. Key services needed for captive formation and management will be presented by industry experts to give newcomers a sense of the process and services used in the overall captive picture. The afternoon features lunch and sessions followed by a cocktail reception for participants, speakers and invited guests.
Interactive sessions for all levels exploring trends in this rapidly evolving landscape, allowing you to earn CPE / CLE / ICCIE credit. Discover innovative strategies and get tips from experts. Panelists who are captive owners from some of the most prestigious organizations in the world speak at VCIA.
Two keynote speakers: Laura Drabik, Group Vice President of Business Innovation for Guidewire Software will speak about disruption, technology and innovation in the insurance industry; NASA Astronaut Mike Massimino will share his incredible experiences manning difficult space missions.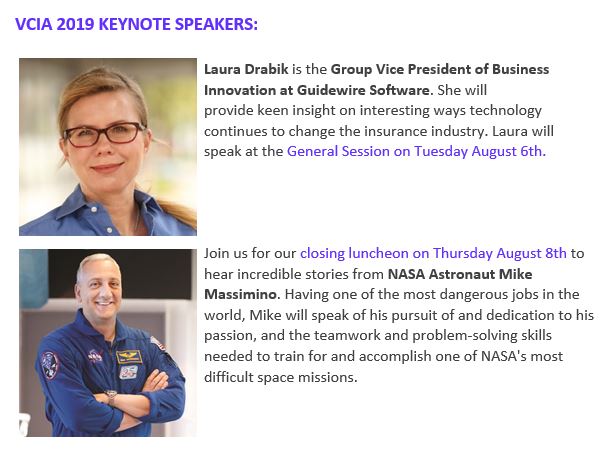 Network with colleagues, peers, and mentors. All the industry's key players will be at the VCIA Conference! It's a great source for captive career development and networking.
Nearly 100 companies exhibit at VCIA, featuring the newest industry product and services.
The Reception with Exhibitors has been extended: 4:30 – 6:30 p.m. on Tuesday evening, allowing more networking time. This reception will feature samplings of Vermont beers & spirits. There will also be dedicated time to spend with exhibitors after lunch on Wednesday.
Off site Evening Reception on Wednesday will be held at boutique Hotel Vermont in
beautiful downtown Burlington.
Tour for captive owners at Burton Snowboards in Burlington. Tour will include hardgoods and softgoods labs as well as the Burton museum.
For attendees' guests or spouse, there is a great group outing to Shelburne, Vermont.
VCIA is a great opportunity to relax, learn and have fun with industry peers!
Conference Registra
http://www.vcia.com/Events/AnnualConference/OverviewofConference/tabid/186/Default.aspx